ADICOM - Automotive Multiplex System
System features, characteristics and advantages:
Fully programmable by manufatcurer.
Better performance thanks to the possibility of carrying out a series of automatic control operations.
Strong reduction in the electric system assembly time thanks to a lower number of connections, cables, fuses, relays, intermittent modules, etc
Vehicle's use restricted to the manufacturer specifications.
Black Box for the recording of anomalies, state of service and all necessary data.
Dashboard optimization thanks to a graphic display which can provide information and can partially or totally replace instruments and warning lights.
Includes diagnostic functionalities, allowing easy and quick analysis and repairs of vehicle malfunctions.
Integrated with the fleet management system TeqMonitoring ®, it includes a satellite GPS localizer with GSM and HSDPA/LTE connectivity, for remote diagnostics and fleet monitoring.
Advanced driver-assistance systems (ADAS)
ITxPT services: FMStoIP, VEHICLEtoIP, MADT
Smart Key: passive entry & passive start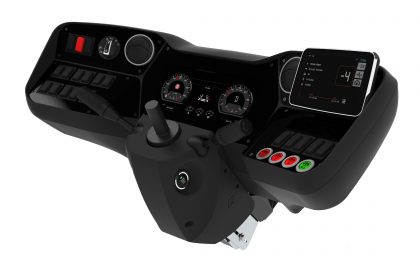 VDV Dashboard with ADAS and ITxPT MADT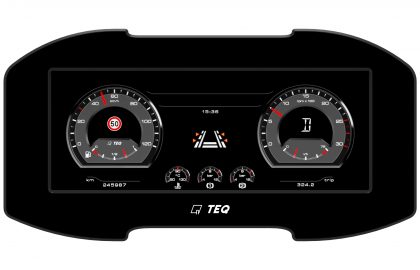 The ADICOM system reduces the number of electric connections, improving reliability and performances. Thanks to the independent intelligence of its control units, it makes it possible to decentralize decisions. One single cable brings the necessary information to the control units placed in the various vehicle's parts.
The continuous necessity to improve performances and controls onboard has resulted into a considerable increase in the number of electric cables. In a modern car the total length of cables used easily reaches a total of 4000 metres and their weight often exceeds 100 kg; moreover, considering that the number of connections is between 1000 and 3000, the problem becomes really easy to understand.
This situation brought about the need of creating something new: instead of using one cable for each function, the idea was to use electronic control units that can group these functions together and to use one single line to connect all control units one to the other. This result was the creation of a network, called 'multiplex network', where all the information, data and controls are transmitted in a very rapid succession on one single common line. The transmission occurs in a serial way, all information are encoded by the electronic control units in a series of '0' and '1' and transmitted in sequence on one single cable. This originates a "net" from which all units connected can draw information.
The communication protocol between the control units of this net, also called 'electronic bus', was developped by BOSCH specifically for automotive applications. This protocol's name is CAN (Controller Area Network) and it has by now become a standard; the major manufacturers of electronic components have already implemented it in their microprocessors.
Thanks to this new technology, added to the expertise acquired by our technicians since 1986 (year of our first application in the field of vehicles' electronic management), we have engineered ADICOM, a modular system that is able not only to replace the whole traditional electric plant but even to perform those particular functions which are normally accomplished by electronics but hardly integrate with the rest of the plant.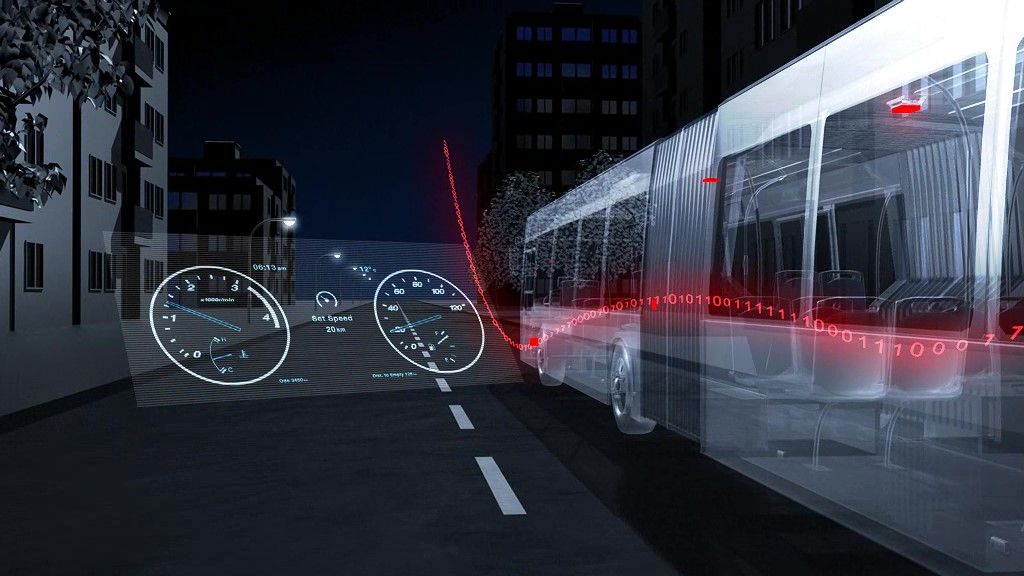 A practical example: the dashboard of any vehicle has to include all instruments, warning lights and controls which are necessary to the normal management of engine, lights and air conditioning; if, in addition to these, it should also include the ones required for all the particular functions of a specific vehicle, the number of cables of the mere dashboard will hardly be lower than 50 and the high number of instruments will need such a large surface that it would be really hard for the operator to have full control on it. On the contrary, with ADICOM system the dashboard is managed by an electronic control unit and the connection with the rest of the whole plant is through one single cable. Thanks to an added graphic display that allows to "draw" instruments, it is possible to replace partially or completely the traditional equipment and the operator can therefore survey "at a glance" the vehicle's state. Some instruments can be displayed only on demand or when a determined function is inserted or in case of alarm. The system also includes self-diagnosis by which it is possible to monitor the correct functioning of all its own elements and, in case of breakdown, to detect immediately the component to be replaced.
In order to prevent an inappropriate use, which could cause breakages or could not guarantee its correct functioning, the ADICOM system can be set up to restrict its use to the parameters established by the manufacturer; moreover, all our systems are equipped with a "Black Box", a device that chronologically records every anomaly of the vehicle and allows both maintenance service staff and manufacturer (in this case for guarantee application purposes) to carry out the diagnostics at a later time.
Always in the perspective of self-diagnosis and with the aim of reducing human interventions down to bare minimum, the control units composing ADICOM system not only provide voltage directly to the actuators (bulbs, valves, etc.), but they also check that no overloads or short circuits take place and allow reduction of cable bulk and elimination of fuses and relays.
The application field of this system is very wide; our applications range from simplest vehicles up to cranes, lifting units, snowmobiles, boats and fully automated vehicles totally managed by our control units and for which the operator, if necessary, can give his commands comfortably sitting at his desk.