GLD - Gas leakage detection - Specially developed for Compressed Natural Gas and Hydrogen
Constant check of combustible gas level in the air
TEQ Safety sensors can work even when vehicle is off, so that they can monitor its safety both when standing and during maintenance. When LEL1 is exceeded by 20%, sensor alerts the control system which consequently gives the alarm according to the laid down procedure.
The current absorption of each sensor at a tension of 24V is 33 mA. This feature guarantees batteries safeguard even throughout long periods during which vehicle is not used.
Specially designed for motor compartment
This system has been specially developed for "automotive" sector, taking into a particular consideration the problems related to its use in the motor compartment. Operating temperature goes from -40°C up to +100°C, and container protection degree is IP 65.
Sensors positioning in risk areas
Gas leakage may occur in several vehicles areas: gas bottles compartment, motor compartment, preheater compartment: GPD system allows to connect up to 16 sensors on the same communication bus (through one single cable ) so that all the vehicle's risk areas can be monitored.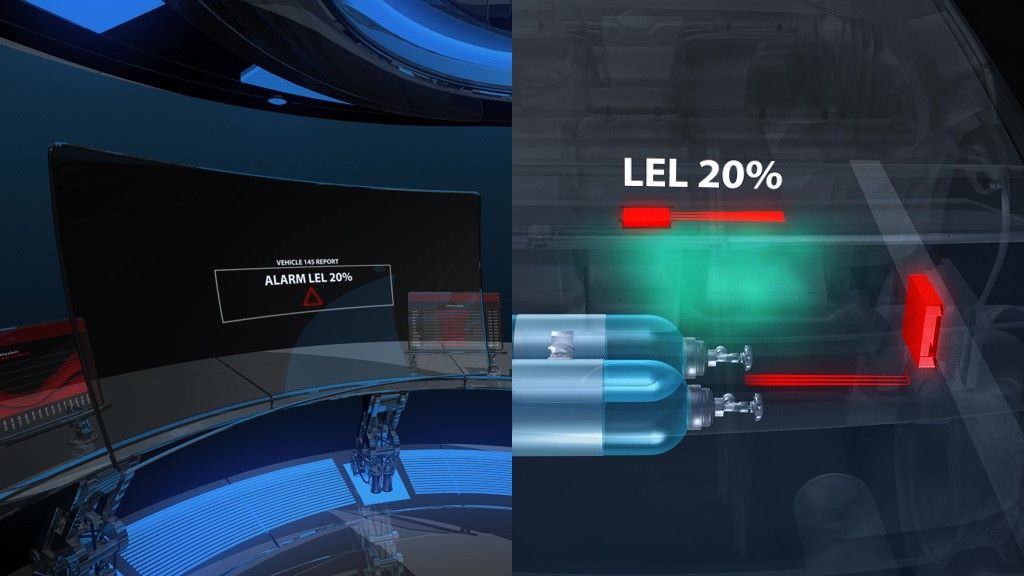 GPD - GAS Protective Device, Electrovalve management and control
During normal vehicle's working, the system constantly checks the following:
Current absorption of each electrovalve. In this way it is possible to check if the electrical connections to the coils of each single electrovalve are correct and if the coils' electrical functioning is correct.
Plant pressure monitoring. During vehicle's functioning, the system constantly monitors the plant pressure in order to detect any possible over-pressure
Through some tests automatically carried out at regular intervals or upon request, the system can detect:
Valves locked open: the risks involved in this kind of fault are mainly linked to the fact that the whole gas plant is constantly under pressure, even when the vehicle is off, being considerably hazardous during servicing operations or parking in indoor closed areas.
Valves locked closed: a gas bottle which should not discharge may represent a danger, as, under certain conditions and due to thermal stresses, its pressure might exceed by even 20%, the maximum one allowed during filling.
System Flexibility
Can be interfaced with the TEQ ADICOM multiplex system
Can be customized to specific needs
Sensors are fitted with a microcontroller: this solution allows to adjust all components' software to the needs of each vehicle manufacturer.
ALARMS
Driver: through the touch-screen display and with buzzer
Parking areas: horn and direction lights, or with customized solutions
Control centre: directly on PC with TEQMonitoring® Fleet Management module
Smartphones: with vehicle localization information